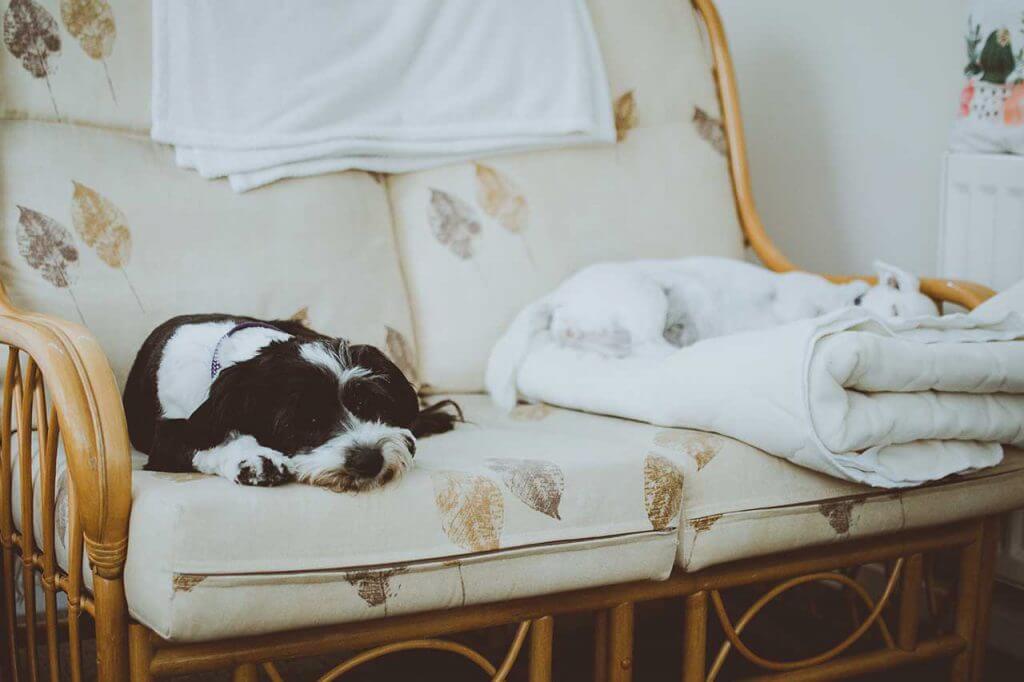 Dogs can bring endless amounts of joy to a home, but they can also bring endless amounts of fur, mud, and saliva, not to mention that classic dog smell. It can sometimes seem like you are spending most of your time trying to keep your house clean, but you are probably just missing some key tools and tricks. Best of all, you don't have to spend a fortune on specialized cleaning products and appliances. We'll show you how to keep your home fresh and beautiful using budget products accessible to anyone.
Be Smart About Cleaning Supplies
A lot of cleaning products can be quite pricey, especially the branded stuff you get in supermarkets. A good way to save money is to stock up on supplies by looking for special offers from big retailers like Walmart. Search online for coupon codes and in-store offers that will help you save.
Another option is to make your own cleaning supplies whenever possible. There are plenty of home recipes that are extremely effective and can be made easily with items from your pantry. This guide by Greatist contains the best DIY cleaning products, including recipes and tips for different surfaces.
Get Rid Of Hair
If your dog has long hair, you'll be familiar with the exasperation that comes with finding every surface of your home covered in it. This especially becomes a problem when it comes to your soft furnishings, where a swipe of a cloth is not likely to do anything. Luckily, there are plenty of products on the market to help dog owners keep their soft furnishings clear of pet hair. A handheld vacuum cleaner is a great option for quick clean-ups for all surfaces. If you buy one from a store like Target, keep an eye out for discounts and promos to save extra money. .
When it comes to carpet, you can either invest in a powerful vacuum cleaner designed to deal with pet hair (keep a look out for deals at major retailers, like The Home Depot, during sales) or buy a rubber broom that can catch the hair in a few sweeps (these usually cost under $20).
Eliminate The Smell
Dog smell is one of the most frustrating parts of maintaining a home as a dog owner. Again, the secret is careful and regular cleaning of all surfaces. Every bit of hair, dander, saliva, or urine your dog leaves around the house will worsen the smell, so you need to treat all hard and soft surfaces around the house on a regular basis.
You could also invest in an air filter or air purifier to help keep the air clean and fresh, but a cheaper option (as long as you live in a temperate area free of heavy pollution) is to leave windows open for a few hours every day to let fresh air in. You can also use DIY air fresheners from everyday items to absorb smells, or stock up on odor-eliminating products via retailers like Amazon, which offers daily deals or even cash back on your purchases. If your house is extra stinky, your carpets may be to blame, so consider giving them a deep clean. You can invest in a carpet cleaner (Groupon Goods often has good deals on them), or you can rent one from a home improvement store like Lowe's.
Watch Out For Dander
Dander is made up of tiny particles of skin released by your pet, and is the main thing people have allergies to. Even if no one in your family has pet allergies, the dander can get onto your clothes, making everyone in your family a walking allergy trigger. Luckily, the best way to get rid of dander is to keep your house as clean as you can. You should also bathe your pet regularly to keep their dander under control.
Having a dog doesn't mean you have to automatically give up on a clean, nice-smelling home. All it takes is some extra maintenance with the help of cheap and simple tools to keep the house looking beautiful and smelling fresh. It does take a little bit more effort, but what you get in return is well worth it: a happy dog, a happy family, and a happy house.
Photo via Pexels.